| | | |
| --- | --- | --- |
| | About microphones | |
| | | |
| --- | --- | --- |
| | Using microphones | |
| | | |
| --- | --- | --- |
| | Where to buy | |
| | | |
| --- | --- | --- |
| | About us | |
Oktava MK-319
Large Diaphragm Condenser

Overview

The MK 319 is the successor to the MK219, providing the same relentless attention to detail and legendary performance in an improved form. The MK319 is housed in a new casing which has been acoustically designed to cut down the sound refractions inside the grill, allowing a smoother and more open sound, as well as being more rugged and shock resistant.

The Switches are also improved and whilst still using magnetic reed switches the mechanism has been redesigned for extra durability and easier operation.

The Mic is a fixed-pattern, cardioid, large diaphragm mic intended for studio and broadcast usage. featuring a classic design gold spattered teflon capsule teamed with low noise discreet preamplifier circuitry, resulting in a smooth frequency response from 40 hz to 16khz, with a gentle presence rise giving especial warmth and clarity to the human voice.

The mic is also ideally suited to guitars, overheads and any other application where a warm clear sound is required. The design of the mic is specifically tuned to bringing the sound that it is used with up front in a sympathetic and flattering manner.

Technical specifications

Mic type
Large diaphragm condenser
Polar Pattern
Cardioid
Freq. Response, Hz
20-18000
Output sensitivity, mV/Pa
13
Max SPL, dB for 0,5% THD
122
Self Noise (DIN), dBa
<14
Output impedance, ohm
200
Phase
Positive
Powering, V
48
Supply current, mA
8
Switches
-10dB / High-Pass Filter
Weight, g
490
Length, mm
205
Max diameter/width, mm
52
Temp. Range
-35degrees C to +45 degrees C
Relative Humidity
85% (+25 degrees C)
Accessories included
Mic holder
Accessories optional
Shock mount
A switch located at the left (High-Pass Filter) allows to change the microphone's cutoff frequency. This reduces low frequency interference directly at the input of the microphone amplifier. This setting also compensates for the unavoidable bass boost that occurs with all pressure gradient transducers when they are used at close distance (proximity effect).

The second switch attenuates the sensitivity by 10 dB. This option should be used in high SPL environments or by recording of loud instruments (for example saxophone).

Frequency response

Compare test OKTAVA MK-319 vs. SHURE SM-81 (Borisov-Art Production Studio)
I have always had faith in Tula gunmakers, but the first impression of the OKTAVA has striked me down. I will describe the experience conducted in the home conditions in a room with awful resonance and without sound insulation with application of a very "unstudio" mixer and very "unstudio" sound card. I couldn't wait and prepare for normal conditions, but in this case it is completely not important, because the both "examinees" were in the same conditions, and secondly - very often we have to record vocal, guitar, etc. exactly in such home environment.
Both microphones were fixed on the same tripod. The signals from both microphones were recorded simultaneously to different channels of the same mixer (with the same gane, sensitivity, timbre). The record was made from a mixers output into computer line-in. Listen to the vocal test and open it with Cool or Forge and look at the waves.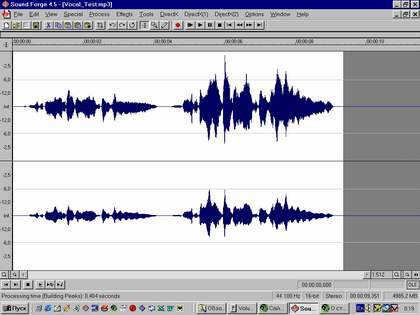 On the top (left channel) you can see OKTAVA, on the bottom (right channel) - SHURE. The first (left) part was recorded with -10dB attenuation, the second part without attenuation.
CONCLUSION: sensitivity of Oktava is higher.
Listen to the left channel. Listen to the right channel.
CONCLUSION: OKTAVA sounds more brightly and juicy than SHURE, and probably, has a rise in the HF area.
Let's try to record a frequency response. For this purpose we will generate with Forge three test signals with smoothly varying frequency (20-280 Hz, 300-4000 Hz and 4,5-22 KHz) and gather them together into one test signal 20 Hz - 22 KHz. Now we reproduce this track and record it simultaneously in Forge. We have got a very approximate frequency response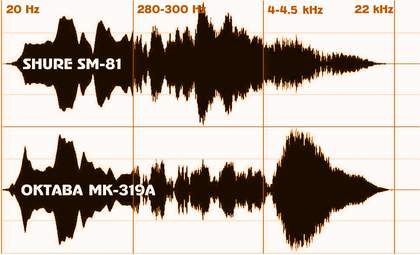 This was a very approximate experiment because a lot of factors were not considered: non-uniformity of carrying characteristics of the amplifier and acoustic system, resonant frequencies of a room... Possibly, there is still a number of desirable conditions for cleanliness of experiment, but we tried to make only approximate analysis. Nevertheless this experiment let us drow a following CONCLUSIONS: SHURE's frequency response is more even and has a recession in HF area > 4,5kHz. OKTAVA has a cavity between 200 Hz and 5 KHz and has a rise in 5,5-12 KHz area.
Borisov-Art Production Studio
EXHardware
Oktava Studio Microphones
Terry Kok

The Oktava MK-319
The Oktava microphones come in their own padded plastic cases with a manual and our MK-319 and MK-012 came with their own shockmounts which suspend the microphones to minimize mechanical vibrations. The first mic we're going to take a look at is the MK-319 condenser microphone. The MK-319 is the successor to the MK219 and comes housed in a new casing which has been acoustically designed to cut down the sound refractions inside the grill, allowing a smoother and more open sound, as well as being more rugged and shock resistant.
The MK-319 as with all condenser microphones, require phantom powering (48V) and comes with a cardiod (heart shaped) polar pattern. The MK-319 isn't a full range mic but it comes pretty close with a frequency response of 40Hz to 16kHz but according to Oktava, the frequency response extends well beyond that figure. The heart of the mic comes in the form of a 1" gold spattered teflon diaphragm with a low noise discreet preamplifier circuitry. The MK-319 has two switches which provide -10db padding as well as a low frequency cut off. The switches felt a little loose for our taste but they did work without a problem throughout the review.
MK-319 In Use
The Oktava MK-319 was perhaps our favorite microphone of the bunch. The MK-319, even when compared to the Neumann U87 (which costs many times more) shared a very similar sound character that I found inviting in vocals. Clear, detailed and warm. Although the Neumann mic did rival the MK-319 in the absolute last bit of detail, you should bear in mind that the Neumann mic costs about 8 to 10 times more than the MK-319! The MK-319 had a full bodied and warm, slightly tube-like mid range which can capture one's vocals very well. The only gripe I have about the MK-319 is in the high frequencies, which is present but lacks a bit of magical sparkle at the end.
Aside from vocals, I found the MK-319 to be an excellent mic when used in conjunction with the MK-012 for miking our Marshall and Mesa/Boogie Triple Rectifier electric guitar amplifiers. I setup the MK-012 one feet away from the first 12" driver in the speaker cabinet at an angle and the MK-319 4' back in a rather lively room and I managed to pick up some really nice room ambience with both the MK-319 and MK-012 mics. Both held up to really high SPL levels and I only got them to distort when the neighbours were hammering on my wall.
I did a couple of guitar tracks with the MK-319 one feet away, aimed at the neck joint at the 12th fret from my Seagull acoustic guitar and the results were really good! Each note came out clear and since the mic was quite close to the guitar, it managed to capture the body resonance of the guitar as well adding an excellent warmth to the overall sound. All in all, the MK-319 makes an excellent vocal and acoustic instrument microphone and it offers a taste of high-end microphones at such an unbeatable value.
Conclusion
The three Oktava microphones (MK-319, MK-012 and ML-52) reviewed are amazing performers for the price. First up, we have the MK-319 which is magical with vocals and stringed/acoustic instruments. Then comes the MK-012 which is another amazing performer that is so flexible, it's like having a whole bunch of mics cramped into one compact design. Get a stereo matched set and have them setup as drum set overheads! Last but not least, the ribbon based ML52 proves yet again that ribbon mics should not be forgotten offering an inviting and warm sound. If you're looking for great microphones that offer an amazing value for your money, I would not hesitate to suggest that you give the Oktava line an audition. Highly recommended!


User comments

Sound Quality
Overall Rating
Let me hand you this caveat: One of the best-sounding records I've ever heard is the Stooges' "Raw Power" (the recently remastered version). It's aggressive, rude, in your face, and frankly, kind of a mess. It's over-hot, fairly into the red, but there's also a certain ambient warmth to it. I'm using a Peavey Classic 30 through a Park 4x12 with 30-watt Celestions (I generally can't stand Peavey amps, but for some reason, I love this one...it's sort of like the very poor man's Nomad 45 Vintage channel), a Les Paul Standard from the early eighties and a Chandler lap steel. I'm using the 219 for instruments and the 319 for vox. I'm seriously impressed by the sound for the money. The guy at Guitar Center initially recommended spending around $300 for a vocal condenser mic and an SM 57. I like '57s, but they tend to sound a bit dry. Good live mics, and good in the studio if you want a tight sound, but even though I'm a vegetarian, I'm a sucker for grease. I don't have a PA, and am not planning on buying one soon. So I gambled and got a 219 instead. It sounds great. I haven't been able to crank up to the amp's sweet spot yet, but even so, using the gain on the Mbox, the guitar sound isn't too bad.

The 319 was magnificent vocally. My voice is a natural baritone, but I've been able to sing both tenor and bass in a pinch (I was California Central Valley Regional Honor Choir back in '94, and though I've played many instruments over the years, voice has always been my forte). Another caveat--I'm a sucker for "warm" in all things--in my photography, I shoot warm-tone film, with my amps, I love mid-to-low-end sounds, vocally, I shoot for richness, whatever the register. Given my experience using SM-58s as vocal mics in both ambient settings and via a 4 and 24 track recordings, the 319 *really* impressed me. It's got a real "vintage" feel. Note that I hate gratuitous quote marks, but I'm using them for the sake of illustration. To my ears, the sound is gorgeous, and I'm not one to take my own voice lightly. The 319 makes me genuinely love my voice in the way that I do when I'm singing along to the car stereo. That said, the quality *isn't* pristine. I'm giving it a ten because the thing was a bargain, and because it's a kind of non-pristine that anyone who's seriously into Sixties garage/Seventies punk (or for that matter, Dixieland) will fall in love with.

Overall, the mic is what it it is. It feels semi-cheap and performs fairly expensive. If they invested fifty or sixty bucks a mic on better machining and quality control, Oktava would have a world-beater on their hands. That said, if you try a few and find one you like, by all means buy it. For a home studio, it's an unbeatable value--I really feel like these mics help me make the music I want to make. While I love (and reference) albums that others might consider crappy-sounding (the first Clash album, the aformentioned "Raw Power"), I like a certain quality to my sound, and these mics have it. My setup is thoroughly inexpensive (including the cost of the computer, additional RAM and disc space, the Mbox, cables, mics and stands, I'm in under four grand), but the sound is really quite impressive. I've been playing music for twenty years, and this rig has *finally* allowed me the venue to express myself as I've wanted to since I first tickled the ivories, and these mics are no small part of it.

i use this mic mainly for vocals. i have two audio-technica condenser mics around the same price range but i use those for acoustic guitar or room ambience.

i run the oktava into a presonus tubepre then into a behringer composer pro compressor (until i get my samson optical comp. which should be here any day) then i go into my boss br1180cd digital studio. in there i use a little stereo delay and maybe reverb for vocal tracking.

the sound i'm going for is the warm, bass-y, in your ear vocal of coldplay's "rush of blood to the head" or travis' vocal sound on "the man who". i also love elliott smith's vocal sound which is also in your ear/head but a lil' more airy.

this mic gives a great clear signal and picks up my voice really well. i use the pad because i sing loud and i don't use the bass roll-off because i like the sound (boy that sounds scientific).
ear/head but a little more airy.

i'm a singer-songwriter-guitarist in the elliott smith/chris von sniedern vein. i've been playing/writing for 16 years.
would i get another if stolen or lost? thats a hard question. could i live w/out it? yes. but i wouldn't want to. i will say this though, i love the way my voice sounds thru this mic. no other mic sounds like it from $0 to $600.

Mine both 319s sounded somewhat grainy, fairly flat response, off-axis response good.

Very big, articulate and detailed sound without hi-end hype, equal or somewhat better than German mics IMO. Can take hi SPL.

319 sounds very good on most vocals, very good on acoustic guitar and very good close mic'ing guitar cab, especially clean tones IMO. Nice all around mic in mod form.